Commercial Roof Repair
Roofers through & through
Providing Quality Workmanship Since 2008
Houston Commercial Roof Repair
Advanced Roofing Solutions for Commercial & Industrial Properties
Damage somewhere on your roof is not an easy thing to spot. In fact, because it is so easy to overlook, it is not uncommon for small problems to turn into much larger ones over time, ultimately resulting in premature roof failure.
As a commercial property manager, you can't afford to have something go wrong with your roof. To protect your tenants, employees, and guests, as well as your bottom line, be proactive about caring for your roof and contact Advanced Roofing Solutions at the first sign of a problem. We have a team of experienced commercial roof inspectors that can look into critical areas and check the extent of the damage and the overall severity of the problem. From their observations, they will recommend whether a roof repair or a roof replacement is the right course of action.
To request an inspection and a quote for commercial roof repair in Houston, please call (832) 952-0907 now.
Highly Recommend

"The work was completed on the scheduled day and we are very satisfied customers.  It felt like we working with a family-owned business. I highly recommend this company and would hire them again."

- Robert D.

Great Experience

"They will definitely be my first call for any future roofing repair or replacement needs!"

- Vernon M.

5-Star Service

"Advanced Roofing will give you the time to fully understand your job requirements, walk through the site, and give you price options accordingly. I give them 5 stars and will recommend them to anyone and everyone."

- Edward K.

Highly Recommend

"I was very pleased with how quickly they completed the roof installation and how thoroughly they cleaned up the site."

- Kara R.

Competitive Pricing

"Tim and Advanced Roofing did a great job replacing my roof and gutters for a competitive price. Would recommend Advanced Roofing, very satisfied!"

- Thomas R.
How Long Do Commercial Roofs Last?
The lifespan of a commercial roof can vary greatly depending on several factors, including the type of roof, the quality of the installation, the level of maintenance, and the climate conditions and weather events we experience here in the Houston area.
Here are some average lifespans for common commercial roofing materials:
Built-up roofs: 10-25 years
Modified bitumen roofs: 15-25 years
PVC roofs: 20-30 years
TPO roofs: 20-30 years
Metal roofs: 30-50+ years
It's important to note that these are just estimates and that the lifespan of a commercial roof will vary. The best thing you can do to prolong the life of your commercial roof is to maintain it with regular inspections and prompt repairs.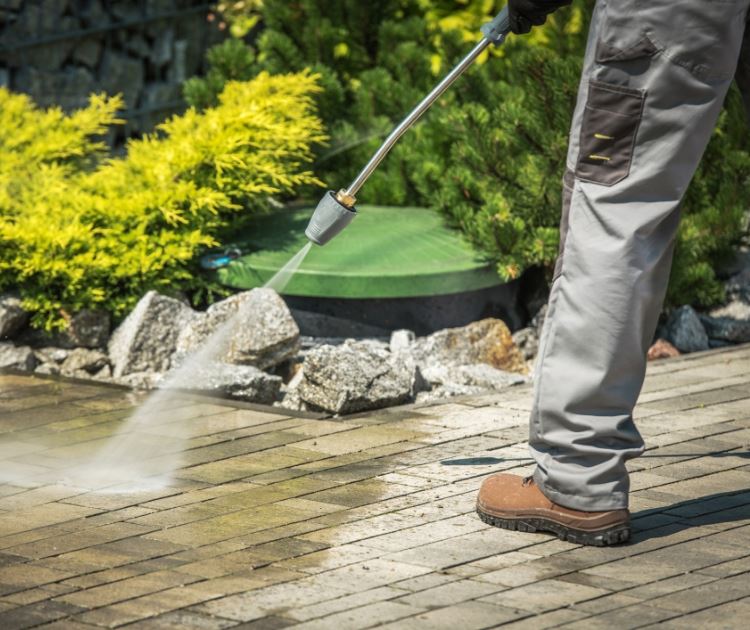 Our Commercial Roof Repair Process
When you partner with Advanced Roofing Solutions, you can expect honest advice, superior workmanship, and fair prices. Our workflow for commercial roof repair in Houston is as follows:
Initial Inspection
Our commercial roofers are trained to assess the overall condition of your roof and determine whether the issue can be cost-effectively repaired. A trained roofer can tell what flaws and vulnerabilities to look for, and whether what appears to be a small, harmless leak is actually hiding a much larger underlying problem.
Recommendation & Project Quote
If what we see during our roof inspection can be corrected with a roof repair service, that is what we will recommend. If, however, the extent of the damage is severe and/or your roof is already on the older side, it may be in your best interests to have the roof replaced. We can provide you with a detailed quote for whichever roofing service you may need.
As honest roofing contractors who operate with integrity, we will not recommend a roof replacement if that's not what your structure really needs. Our goal is simply to offer a friendly, cost-effective, efficient, and reliable commercial roof repair service that you can depend on.
Cleaning the affected area
Once you make the decision to have your roof repaired by Advanced Roofing Solutions, we'll begin the process by making sure that the area to be worked on is clean. In most instances, clean-up of the area to be repaired would involve a pressure washer to remove debris, moss, etc. If there are areas with broken shingles or torn or waterlogged materials, our technicians will use a clam hammer to remove them (this is a must-do if the roof has some dripping or broken sections of plywood nailed onto the joists of the roof). From there, we'll move forward with the actual repairs.
Repairing the Roof
Once we're done cleaning the broken area, our Houston commercial roof repair professionals will conduct repairs accordingly. At Advanced Roofing Solutions, we always deliver high quality service to ensure the safety and functionality of commercial roofs. With over three decades of experience in roof repair, we are knowledgeable in fixing a wide range of commercial flat roofing systems including:
Built-up roofing systems
Torch-on and spray-applied coating systems
Tar and gravel roofs
TPO roofing systems
As such, you can be sure that your Houston commercial roof repair will be completed using the latest in waterproofing technology and the safest and most efficient working procedures.
Call Today to Request a Quote!
We know how important it is to have your commercial roof issues corrected quickly with as little disruption to your business's daily operations as possible. You can feel confident choosing Advanced Roofing Solutions for roof repairs in Houston because we prioritize your needs and your complete satisfaction. Whether you own or manage a retail store, a hospitality business, an office building, an warehouse, a manufacturing facility, or any other type of business here in the greater Houston area, we are the team that you want on your roof repair project.
To get started with a roof inspection and repair quote, please call (832) 952-0907 or contact us online today.
Contact Us TO GET STARTED
CALL
(832) 952-0907

OR FILL OUT THE FORM BELOW.
The Greater Houston Roofing Experts